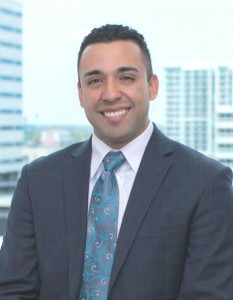 It is such a blessing, a true honor, to have the opportunity to lead the Broward County Hispanic Bar Association. After being elected by my peers to become the President-Elect a year ago, I was overcome with humility, and eagerness. Given the long-standing history of success this Association has enjoyed since it's inception, I immediately appreciated the responsibility being placed upon me. It is one that I have embraced and will not shy away from.
As a kid I was told, but more importantly shown, that respect from others is earned. I was taught that not everyone would like me or agree with my ideas, and that was ok so long as they were noble and not self-righteous. I learned to be confident, remain humble, and rely on my preparation and God-given abilities. Lessons that have molded me into the person I am today.
Now, I take an oath to uphold the principles and pursue the mission of this Bar Association. Certainly this is something that I vow to do. Over the course of this next year, I vow to be engaged, motivated, and to always act in the best interest of this Association and its membership. I have an ambitious agenda intended to increase membership, establish a community partnership program, and ensure the longevity of this Bar Association. There is only one way I know to accomplish this, and that is by planning and then setting that plan into action. As the great John C. Maxwell once said, "Anyone can steer the ship, but it takes a leader to chart the course."
To accomplish the goal of increasing membership, we must cultivate the partnership that the BCHBA has with the local law schools. With plans to establish a law school mentorship program, this will allow Hispanic law students the opportunity to be mentored by some of the top Hispanic legal leaders in South Florida. This will stimulate member engagement and begin to welcome some of the future Hispanic leaders of our profession to the Hispanic Bar. Additionally, as a voluntary bar association, we must not hesitate in partnering with other voluntary bar associations. There is a large network of voluntary bar associations in South Florida and we could all stand to benefit from bilateral cooperation and participation.
As with almost everything in life, there is a natural tendency for people to wonder, "what's in it for me?" It is no different when talking about a professional association. In addition to forming a searchable member directory accessible to our membership, I have begun the process of establishing a group of community partners that will provide certain benefits to the paying members of the BCHBA. These services will include partners in the following areas: banking, accounting, travel, legal support services, insurance, and many more. This new community partnership program will not only benefit individual members, but will help strengthen the BCHBA's relationship with the Broward County community, thus creating a dual benefit for all participants.
Lastly, as the only all-inclusive Hispanic Bar Association in Broward County, it is imperative that we always remain relevant and not shy away from taking innovative steps to continue our history of success. We are members of the legal profession, and as such have a heightened duty of advocacy and responsibility to our community. We assist, we educate, we lead. We will continue to provide educational luncheons and seminars, continue to support local Hispanic initiatives, continue to advocate for those less fortunate in our community, but we will also begin to provide our membership and community with the ability to learn more about and communicate with prospective members of our judiciary. With the formation of the BCHBA Judiciary Committee, now members will have a voice, a source from within the Hispanic legal community from which to receive information about candidates running for judicial office.
These initiatives will take a lot of hard work and cooperation, from the BCHBA board and membership. This year's leadership is motivated and ready for the challenge, and I look forward to working with them to present our membership with all of these exciting and beneficial opportunities throughout this next year.