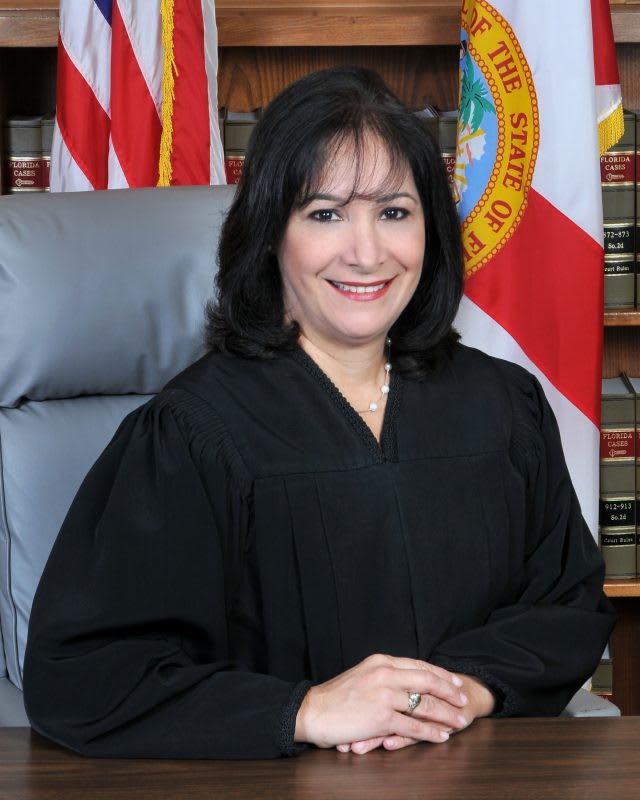 Judge Garcia-Wood not only plays a crucial role as a circuit court judge in the Seventeenth Judicial Circuit Court of Broward County, but she was also fundamental in establishing our organization. Her story is inspirational; her achievements are nothing short of tremendous; and her contributions to the Hispanic community in Broward County are virtually unparalleled. Accordingly, the Broward County Hispanic Bar Association is honored to recognize her as the Judge of the Month this July.
Because she was born in Santiago de Cuba during a tumultuous time, Judge Garcia-Wood had a difficult childhood. In 1966, her father was separated from the family and sent to one of Fidel Castro's labor camps. He was forced to work in terrible conditions with hardly anything to eat for three years. During this time, Judge Garcia-Wood and her four siblings were unable to see him. He had been prohibited from going home. Instead, he spent his days cutting sugar cane in swamp water coming up to his knees. Despite strict food rations in place, Judge Garcia-Wood's mother would bring him food each weekend.
The family fortunately managed to flee the country on a 1969 Freedom Flight to Miami. The hardships they faced in Cuba motivated Judge Garcia-Wood to become a lawyer. She wanted to do whatever was in her power to ensure freedoms would be maintained in her new home.
A humble and loving upbringing helped shape who Judge Garcia-Wood is today. After moving to Miami, her father worked as an auto mechanic while her mother worked as a hotel maid. Her father was not an expressive man, but he cared for his family deeply. According to Judge Garcia-Wood, being her father's youngest daughter ensured that she had a special place in his heart and that she could do no wrong in his eyes. Judge Garcia-Wood's mother complemented him well—she was a true extrovert who made friends with everyone she met. They both instilled the importance of discipline, education and hard work in their children.
Judge Garcia-Wood's determination allowed her to overcome difficult obstacles when seeking higher education. Her parents did not have the means to help support her financially through school. Accordingly, she studied especially hard to obtain grants and scholarships, and worked through college and her last two years of law school.  After graduating 7th in her high school class, Judge Garcia-Wood attended Miami Dade College and Florida International University. She then obtained her law degree at the University of Florida Levin College of Law in 1986. Her father cried with pride when she became a lawyer.
After being in private practice for nearly fifteen years, Judge Garcia-Wood was elected as a judge.  Her election to the bench was monumental. At that time, winning judgeships by election was especially difficult for minority candidates. She had worked tirelessly for years to become a judge; juggling her work and life obligations, which included raising her daughter and autistic son as a single parent. Then, in 2006, the hard work paid off. Judge Garcia-Wood became the first elected Cuba-born judge in the county.
Broward County would not be the same without Judge Garcia-Wood's contributions to the community over the years. After moving from Miami to Hollywood in 1988, she quickly realized that many roadblocks existed for Hispanics to become leaders in Broward County. In 1989, she founded the Broward County Hispanic Bar Association along with some of her colleagues. The organization aimed to promote judicial diversity and the interests of Hispanic lawyers and was the first of its kind in Broward County.
Judge Garcia-Wood is also an advocate for children with special needs. When her son was diagnosed with autism at an early age, she had never heard of the condition. To make matters more complicated, not many services have ever been available to him because of where he falls on the autism spectrum. Judge Garcia-Wood describes her son as being pure love and the happiest person she has known her entire life. According to her, she has learned a great deal by raising him. As she put it, the experience has made her a more compassionate and patient person who is able to take on challenges and yet remain positive.
The Broward County Hispanic Bar Association will forever be grateful for Judge Marina Garcia-Wood. She has been a true visionary and role model, especially for minorities. Broward County is a much better place because of her efforts.
Interview with the Honorable Marina Garcia-Wood