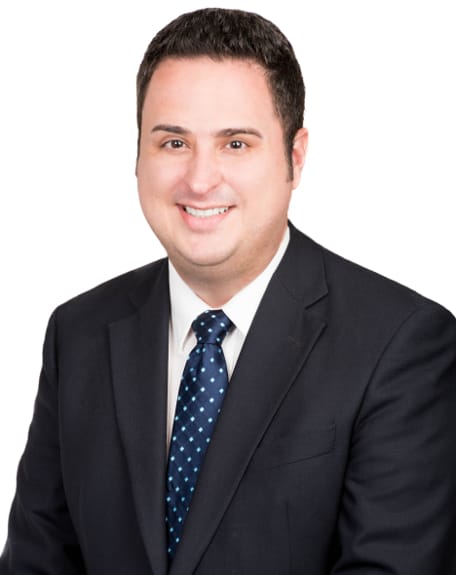 Aron "A.J." Gibson is the immediate past president of the Broward County Hispanic Bar Association. He was born and raised in South Florida and is of Cuban, Puerto Rican and Irish descent. Mr. Gibson obtained his law degree from St. Thomas University School of Law where he won several awards in trial advocacy and served as student body president for two years. Also while in law school, Mr. Gibson interned at a personal injury law firm, was a certified legal intern at the Broward County State Attorney's Office and clerked for the late Judge Amy Karan.
Mr. Gibson previously worked as an Assistant State Attorney in Broward County, where he handled thousands of criminal cases and sat for dozens of jury trials. He currently works at Montero Law Center and focuses his practice on personal injury and wrongful death law. Mr. Gibson assists persons who have been wronged and injured due to the negligence of others daily. He was won awards as an attorney, including the 2019 Broward County Bar Association Executive Director's award.
During his presidency with the Broward County Hispanic Bar Association, Mr. Gibson was instrumental in collaborating with numerous organizations to host a multitude of events. He also organized monthly community service initiatives to help grow our community. Under his presidency, new initiatives began, including "Behind the Gavel, a Celebration of Hispanic Judges," "Broward Bilingual High School Conference" and "Latinas in Law."
Mr. Gibson shares these words with the membership to close his presidency:
"It was an honor and a pleasure to have been a president of this prestigious organization. In this past year, we have accomplished so much to enrich our community. Thank you to our past presidents and judicial liaisons for assisting us throughout this year. We could not have been successful without you. Although my term as president has ended, I will continue to serve this organization and this community for as long as I can."
Thank you, Aron Gibson, for your dedication to the legal profession and this organization, and for taking the BCHBA to the next level!