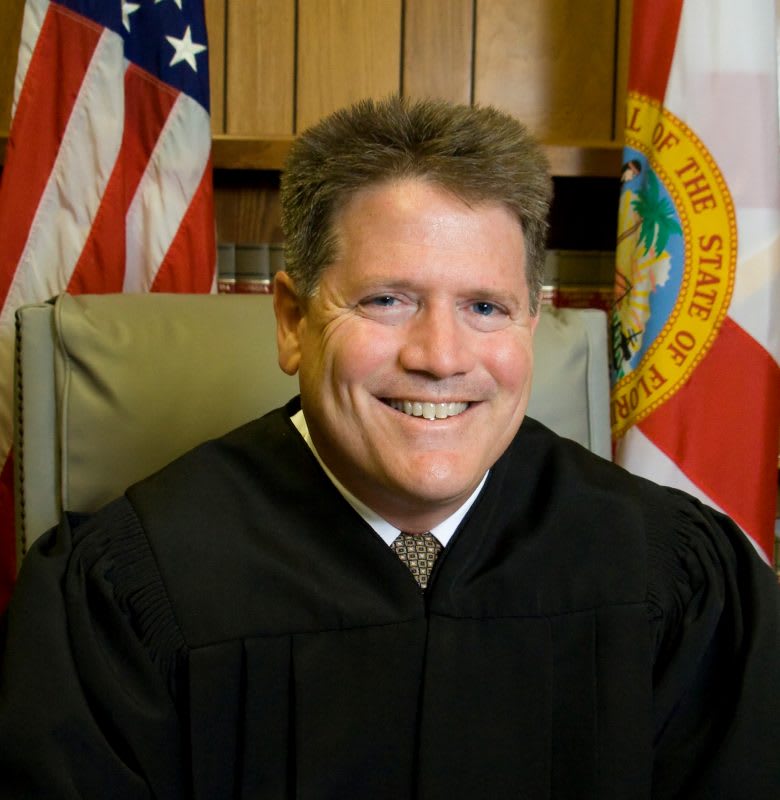 The Honorable David A. Haimes was born and raised in South Florida. His mother, Ligia, was born and raised in Colombia, South America, and she came to the United States when she was in her 20's. His father was born and raised in New York, and his paternal grandparents came to the United States from Russia and Romania. In 1960, his parents met in Miami, and they were later married at the Gesu Catholic Church in downtown Miami, and they raised their family in South Florida.
Judge Haimes graduated from Chaminade High School in Hollywood, Florida in 1983. He graduated from the University of Notre Dame in 1987, where he studied accounting. Judge Haimes worked for Ernst & Young as an auditor for three years prior to returning to Notre Dame where he graduated summa cum laude from Notre Dame Law School. Judge Haimes' mother became a naturalized citizen at the same time Judge Haimes was sworn in as an attorney in 1993.
Following his graduation from law school, Judge Haimes clerked for United States District Court Judge William J. Zloch (1993-95) and United States District Court Judge William P. Dimitrouleas (1998-99).  He also worked as a Civil Trial Attorney with the United States Department of Justice Tax Division (1995-98), as an Assistant State Attorney (1999-2003) in Broward County, and as an Assistant United States Attorney (2003-2010) in the Southern District of Florida.
In 2010, Judge Haimes was appointed as a Circuit Court Judge in the Seventeenth Judicial Circuit, Fort Lauderdale, Florida. He served in the Criminal Division for seven years before transferring to the Civil Division in 2017, where he is currently assigned.
Judge Haimes believes the mentoring of young lawyers is very important. He enjoys having law school interns every summer and keeping in contact with them during their careers. He also enjoys mentoring young attorneys, whether Assistant State Attorneys and Assistant Public Defenders who were previously assigned to his division, or young civil attorneys who currently practice before him on the civil bench.
Judge Haimes has been married to his wife, Dianne, for almost 30 years, and they have raised five children. He especially enjoys the large family gatherings with his extended family in South Florida, and his favorite dish is his Mom's paella.
We are grateful for Judge Haimes' commitment to the bench and this community!
Interview with The Honorable David Haimes