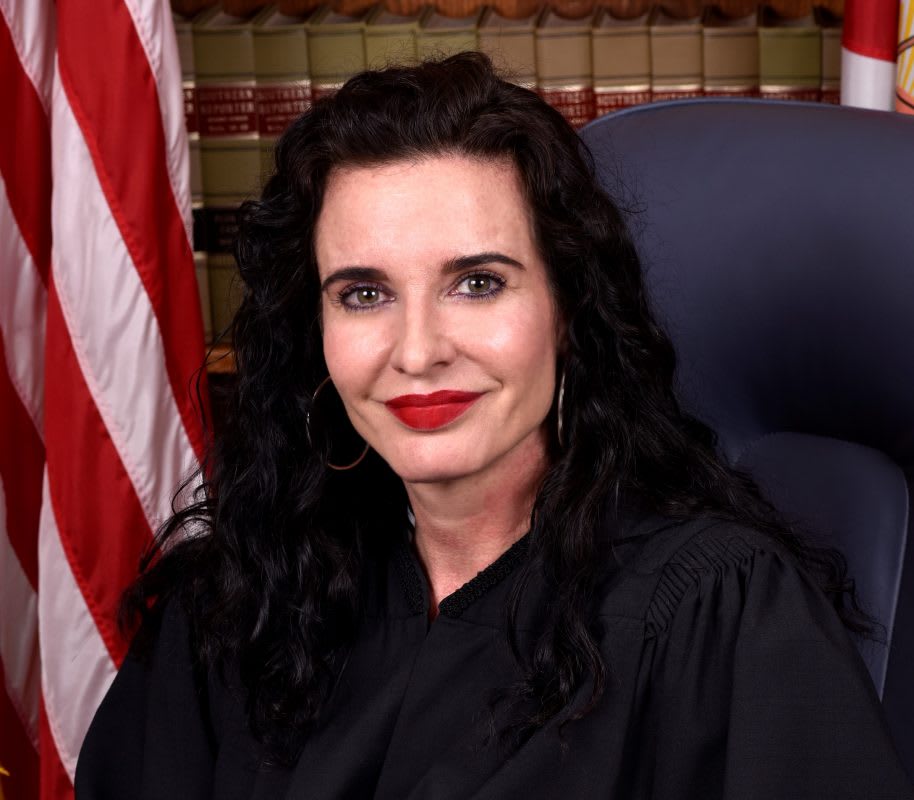 Passionate about Flamenco dancing, a big fan of Salvador Dali's artwork, and a lover of her mother's gazpacho soup, Judge Kathleen McCarthy is immensely proud of her Spanish roots and the cultural fusion she was born into with an Irish American father and a Spanish mother.
Her parents met in the late 1950s in Spain, married, and later immigrated to the United States with their children. Judge McCarthy remembers that during her childhood, her family lived in Spain, France, Puerto Rico, New Jersey, Kentucky and Florida. She also proudly recalls that in her multicultural home, her father, a trilingual speaker, would often speak French to her mother while her mother would respond in Spanish. Today, Judge McCarthy joyfully shares that she keeps that tradition alive and has even developed her own blend of the three languages.
As the only lawyer among her five other siblings, Judge McCarthy is specially honored to carry forward her father's legacy of public service. Her father, a Judge Advocate General's Corps (JAG) officer and later in life a federal judge,  had the privilege of swearing her in as an attorney at their family home.
Judge McCarthy's curiosity for the law first began as a child when she visited her father's office, but it solidified after the tragic death of her little brother, an incoming law student at Georgetown University, her father's alma mater. Amid this tragedy, she recalls that her own acceptance to law school marked a "new lease on her and her family's lives," and served as an opportunity to honor her little brother's memory.
As a South-Floridian and proud graduate of Little Flower Grade School Madonna Academy, Judge McCarthy has always had a strong connection to South Florida. In 1995, she received her Bachelor of Science degree in psychology from Florida International University. During her undergraduate studies, Judge McCarthy traveled abroad and studied at the University of Salamanca in Salamanca, Spain. In 1997, she earned her Master of Science degree in counseling from Barry University. In 2000, her passion for law and travel took her overseas again to pursue maritime studies at Tulane Law School in the Greek Isles, and negotiation and arbitration at Humboldt University in Berlin, Germany. In 2001, she earned her Juris Doctor degree from Nova Southeastern University and was admitted to practice law in the State of Florida.
Describing herself as a quiet law student that often sat in the back of the classroom, Judge McCarthy now reflects on how her life experiences working as a crisis counselor during law school; her work  on the institutional review board at Holy Cross Hospital reviewing cancer drugs for FDA and ethical compliance; and a chance encounter covering a case in court for a colleague all led her to develop a passion for the courtroom.  That passion resulted in over a decade of public service work with the Office of Criminal Conflict and Civil Regional Counsel, where she handled civil rights issues in the areas of criminal law, dependency, delinquency, mental health, and specialty courts like  Drug Court, Marchman Act Court, Early Childhood Court, Adult Protective Supervision and Public Health Courts, and others.
Over the years, that passion grew even further and in 2016, it elevated her to the bench as an elected County Court Civil Judge for the 17th Judicial Circuit. Today, she still proudly serves the community in that role presiding over disputes involving property damage, landlord-tenant evictions, personal injury protection suits, credit card debts collection cases, and other areas. "I never would have dreamed that this could come true. Sometimes I still pinch myself [and]. . . say this is just so amazing. I am very grateful," said Judge McCarthy when asked about her thoughts on being a judge.
In her current role as a jurist, she strives to continue to learn and listen to new legal arguments and disputes that will allow her to better serve her beloved community in a dignified and professional matter.  "Justice needs to be blind, but it need not be ignorant and deaf," said Judge McCarthy when asked about obstacles to justice. "Justice needs to be impartial and objective. You need to treat friends no differently than you would strangers, or rich people better than poor . . . you need to have an open ear and apply the law, " she added.
Although reserved and hard working on the bench, Judge McCarthy is an avid fan of comic books and cosplay, weightlifting, and the Latino boyband Menudo. A perfect birthday celebration for her includes spending quality time with her twelve-year-old son, adoring her rescue dog named Cleo, and enjoying the exquisite Spanish cuisine of her mother, whom she lovingly describes as "the coolest person she has ever met, a woman that can build anything, and her greatest cheerleader."
In the words of her favorite artist, Salvador Dali, "a true artist is not one who is inspired, but one who inspires others." Judge McCarthy indeed is a true artist as she inspires us with her passion for the law, her endearing personality, and her ongoing service to the community.
We are proud to honor her as the Broward County Hispanic Bar Association's Judge of the Month for June 2021!
Interview with The Honorable Kathleen McCarthy