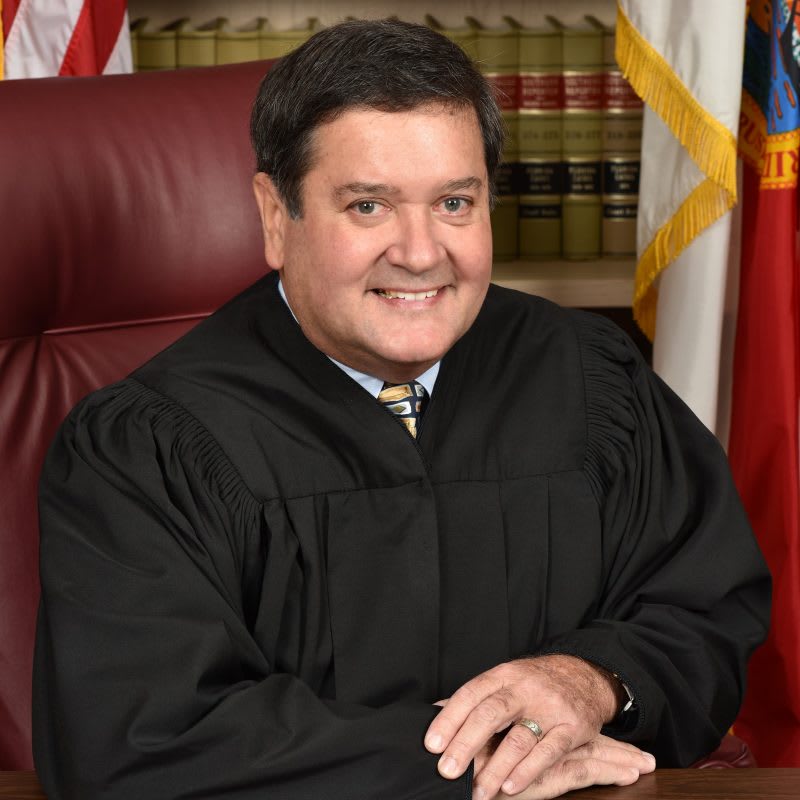 Judge Carlos Rodriguez was born in Havana, Cuba and left when he was five years old after the Castro regime took over. His father, an airline pilot for Cubana airlines, recognized the implications of the regime's early nationalization of the airlines and decided that the family should leave Cuba. At the time, families could only obtain tourist visas to the United States, if one family member stayed behind.  Judge Rodriguez's father stayed behind, sending Judge Rodriguez, his mother and his sister on tourist visas to the United States, where they sought asylum upon landing in New York. Judge Rodriguez's father joined them shortly after. While stopping in New York on his regular flight route, he stepped off the plane and sought asylum.
The family found their permanent home in Ft. Lauderdale in 1962.  A true Broward County native, Judge Rodriguez attended Northside Elementary, Sunrise Middle School, and Ft. Lauderdale High School where he graduated as one of the top five students in his class.
Judge Rodriguez was exposed to many attorneys throughout his teenage years – among them Judge George W. Tedder, Jr. whose daughter was Judge Rodriguez's high school girlfriend.  When Judge Rodriguez met him, Judge Tedder was the Chief Judge in the Seventeenth Judicial Circuit, and would often discuss his career and the law with Judge Rodriguez, piquing Judge Rodriguez's interest in pursuing a law career and becoming a judge.
Upon graduating from college, Judge Rodriguez attained his law degree from the University of Florida. His first job out of law school was with the Broward County public defender's office where he tried a number of cases, including a capital murder case.  In 1985, after gaining significant litigation experience at the Broward County Public Defender's office, Judge Rodriguez left to work for a private civil firm.
Judge Rodriguez was ultimately appointed to the bench by Charlie Crist in January of 2009.  Since 2009, he has served as a judge in the Seventeenth Judicial Circuit in Broward County.  He started in criminal court, but since then has been rotated to juvenile, family and civil court.  Judge Rodriguez currently sits in civil court where he has been for the last seven years.
Despite his extensive litigation experience, Judge Rodriguez still lists his 2010 campaign for reelection as one of the most important experiences in informing his role as a judge.  During his campaign, he was exposed to the diverse people and views in Broward County, which helps him to better understand those who appear before him.  Judge Rodriguez views his experience as an immigrant and a Hispanic as a close second. Through his experience, he has been exposed to cultural differences and is sensitive to them, an important trait in our diverse County.
Judge Rodriguez is married to Judge Marina Garcia-Wood, a Circuit Criminal judge with Broward County.
We are proud to honor him as the Broward County Hispanic Bar Association's Judge of the Month for July 2021!
Interview with The Honorable Carlos Rodriguez