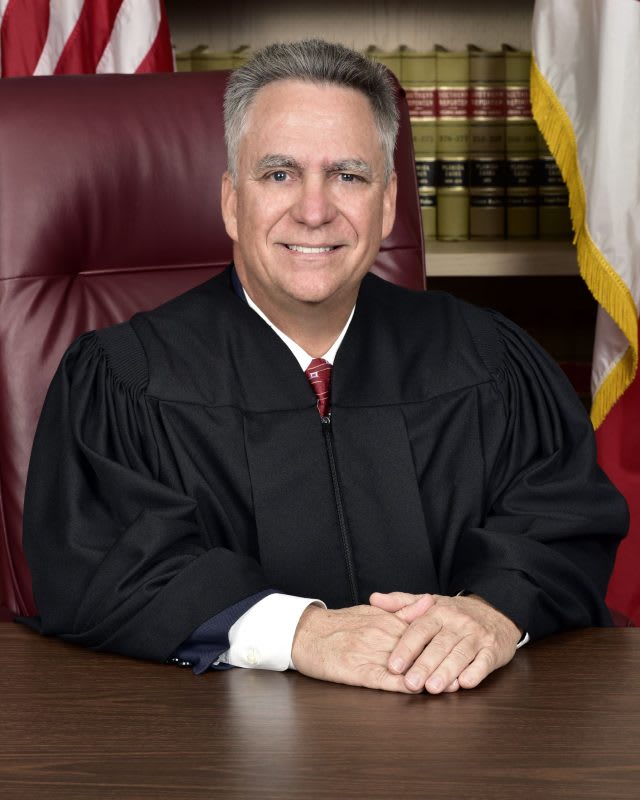 Judge Frank David Ledee was appointed to the Circuit Court for the Seventeenth Judicial Circuit of Florida in December 2018 and currently serves in the Unified Family Division. He is committed to serving our community and enhancing the integrity of the Judiciary. His knowledge, experience, and background provide him with a genuine understanding of the needs of the litigants, attorneys, and witnesses who appear before him. His calm judicial temperament and strong work ethic make him an invaluable member of our judiciary and our community in Broward County. As such, the Broward County Hispanic Bar Association is honored to recognize Judge Ledee as Judge of the Month.  
Judge Ledee was born in Puerto Rico and grew up in the Caribbean. He moved to Broward County in 1976 to attend Florida Air Academy. In 1996, he moved to the City of Hollywood and has lived there ever since. Judge Ledee has been married to his wife Deanne for twenty-three years, and together they are the proud parents of an aspiring architect, Kevin. He earned a Bachelor of Science degree in business management from Barry University in 1985, a Master in Business Administration from Barry University in 1988, and his Juris Doctor degree from Nova University in 1994. He is fluent in English, French, Spanish, and Creole and prides himself on his ability to communicate with all those who seek justice in his courtroom. 
Prior to his appointment, Judge Ledee served the public for over two decades as an Assistant State Attorney. He treated everyone he encountered fairly and sought to do justice in every case he touched while in that position. Not surprisingly, he earned the respect of victims, colleagues and law enforcement.  
As the Chief of the Multi-Agency Gang Strike Force, the Gang Prosecution, and the Gun Violence Unit, Judge Ledee led and coordinated numerous proactive local, state, and federal investigations and prosecutions targeting violent gang members, armed drug dealers, career criminals, and firearm offenders. As a homicide prosecutor, Judge Ledee successfully tried numerous felony cases to verdict. These included matters involving murder, racketeering, robbery, burglary, sexual battery, aggravated battery, aggravated assault, aggravated child abuse, and trafficking in controlled substances. In July 2016, Judge Ledee was appointed to serve as a Commissioner and Corporate Director for the South Broward Hospital District. He served the Memorial Healthcare System with distinction until his appointment to the bench in November 2018.  
Judge Ledee has earned a reputation for being a thoughtful, caring, and hardworking jurist who follows the law. He is knowledgeable and fair and understands the needs of our diverse community. Judge Ledee is accessible, open to contrasting viewpoints and uses a common sense approach to problem-solving.  
The community is proud to have Judge Ledee as one of our Hispanic Jurists! 
Interview with The Honorable Frank Ledee