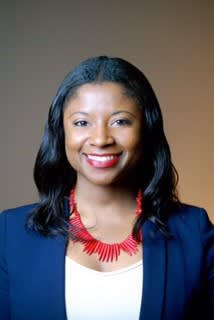 Iris Elijah is the Associate General Counsel at Florida International University. She has served as a government lawyer her entire legal career. Ms. Elijah is highly involved with the legal community. Besides her involvement with the Broward County Hispanic Bar Association, Ms. Elijah is on The Florida Bar Young Lawyers Division (YLD) Board of Governors, the Miami-Dade Chapter of the Florida Association for Women Lawyers and the Gwen S. Cherry Black Women Lawyers Association. She is also a Leadership Academy alumna.
The importance of education and giving back was instilled in Ms. Elijah from an early age. Her mother's side of the family is from the Southern United States, and her father's side of the family is from the Dominican Republic. Her mother integrated her high school growing up—making part of the first group of Black students to attend an all-white school. In turn, Ms. Elijah's father was the first in his family to attend college and dreamed of what minorities could achieve. Both her parents served in the Army, and as a result, she was born in Fort McClellan, Alabama.
Ms. Elijah attended University of South Florida, where she obtained a double major in Economics and African Studies. She then obtained her law degree from Florida International University. She attended law school without ever meeting an attorney. Her family history and life experiences shaped her belief that we are here to not only ensure that we succeed and do the best that we can, but to also help others so they can do the same. Ms. Elijah especially enjoys working collaborating with other lawyers on community projects.
During college, Ms. Elijah served as the executive director of the Campus Activities Board. What she did not realize at the time, is that her legal career would take a parallel path to that position. Through her current work in higher education, Ms. Elijah ensures that all university legal needs are met, and that barriers for students to obtain a proper education are eased to the extent possible. Notably, in her first year of practice, Ms. Elijah became the first Black attorney for Florida International University. Then, in 2015, she became the first Black attorney for the State University System Board of Governors.
The Broward County Hispanic Bar Association is proud to have Iris A. Elijah as one of its members!