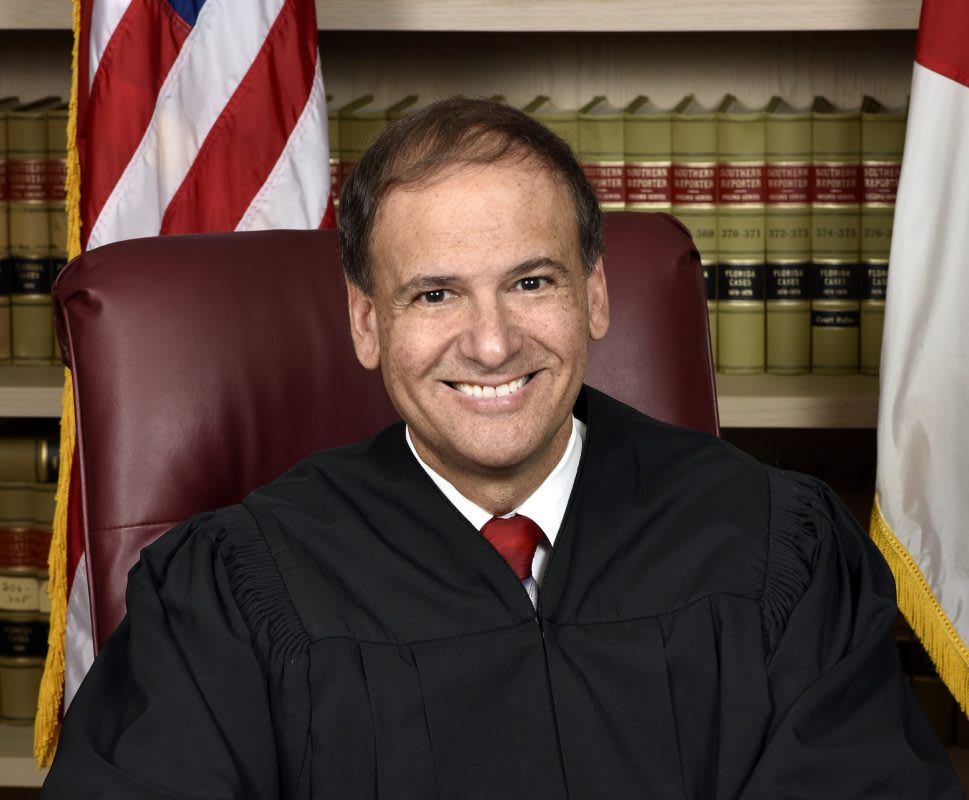 Judge Carlos Rebollo was appointed to the bench in 2007 by Governor Charlie Crist and has been a judge for the last 13 years. He was born in Cuba and as a young boy moved to New York. Soon thereafter, he settled in New Jersey, growing up in the working-class and diverse neighborhood of Newark's East Ward.
Judge Rebollo's primary mentors included his father and Brother Robert Conway, a teacher at his all-boys Catholic high school. His father taught him to focus on his education and always work hard. In turn, Brother Conway, who had a law degree, introduced him and his classmates to the legal profession. Brother Conway taught Judge Rebollo's law class in his senior year, and took the students to the local courthouse, where they watched a real-life homicide trial. It was in Brother Conway's class that Judge Rebollo was "bit by the bug." He realized he wanted to pursue the legal profession and possibly become a prosecutor.
After graduating from Essex Catholic High School, Judge Rebollo stayed local and earned his bachelor's degree in political science from Rutgers University. He was later awarded a scholarship to Drake University and thus ventured off to Iowa to obtain his Juris Doctor degree. In law school, he was able to further explore his interest in criminal law. Upon graduation from law school, Judge Rebollo clerked for the Honorable John J. Dios of the New Jersey Superior Court in Essex County. Following his clerkship, he became a prosecutor at the Essex County District Attorney's Office. Interestingly, this marked 10 years from when he watched the homicide trial while in high school, and he had the opportunity to work with one of the attorneys from that trial.
In 1986, Judge Rebollo moved to the Sunshine State, to be closer to his semi-retired parents. He continued his prosecutorial career as an Assistant State Attorney in Broward County. Over the next 19 years, as he moved up through the State Attorney's Office, Judge Rebollo tried hundreds of cases to verdict before he eventually left the Homicide Unit for a brief stint in private practice in 2007. In fact, Judge Rebollo was only a solo practitioner for 4 months before he was appointed. Since taking the bench, Judge Rebollo has exclusively presided over cases involving juveniles, first in dependency and then later in delinquency, where juveniles are accused of committing a crime.
While Judge Rebollo had no experience with delinquency cases prior to being assigned to the Division, he finds his role therein to be especially fulfilling. According to him, "it's not your normal division, you need to know the right time to be compassionate and the time to be tough… it's more the vision of what situation is this juvenile in, where has he come from… where has he been and why is he here in front of me, and to try and figure out how best to address that." In this position, Judge Rebollo takes all factors into consideration, with the hope that the juvenile grows and experiences no ongoing issues as an adult.
Judge Rebollo finds the role of a judge to be very demanding but also rewarding. He frequently compares it to an umpire. Though he describes being a judge as a "twenty-four-hour job" that is not for everyone, Judge Rebollo encourages young attorneys, especially minorities, to consider and pursue this path.
We are proud of Judge Rebollo and appreciative of the role he plays in the justice system.
Interview with The Honorable Carlos S. Rebollo