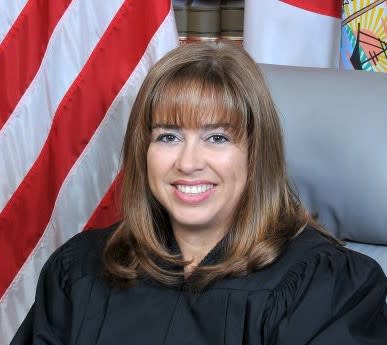 The Honorable Olga Levine is a native Floridian who was born in Orlando and was raised in South Florida. Her parents are both of Cuban descent. Judge Levine was the first member of her family to graduate from law school and received both her undergraduate and law degree from University of Florida. After being admitted to the Florida Bar in 1989, she worked as an Assistant Public Defender for the Seventeenth Judicial Circuit of Florida until 2000. Judge Levine then went into private practice at Levine and Associates, P.A., but she returned to her work as an Assistant Public Defender in 2007 and she remained there until she was elected to the bench on November 6, 2012.
Judge Levine presides on the Bench in the Seventeenth Judicial Circuit of Florida's West Regional Courthouse in Plantation. She loves that her position in County Court (often referred to as the "People's Court") allows her a more direct opportunity to engage and interact with members of our community on a daily basis. As a member of our Broward Judiciary, Judge Levine seeks to further the betterment of each individual that comes before her, which in turn betters our community.
Judge Levine was encouraged by her family and peers to always follow her dreams and aspirations. However, as a first generation American, she often had to find her own way through life's challenges. It is therefore no surprise that Judge Levine is very gracious in giving her time to the mentorship of younger attorneys and the education of our youth about the role our Judiciary plays in society.
We are grateful for Judge Levine's commitment to the Bench and our Broward community!
Interview with Judge Levine