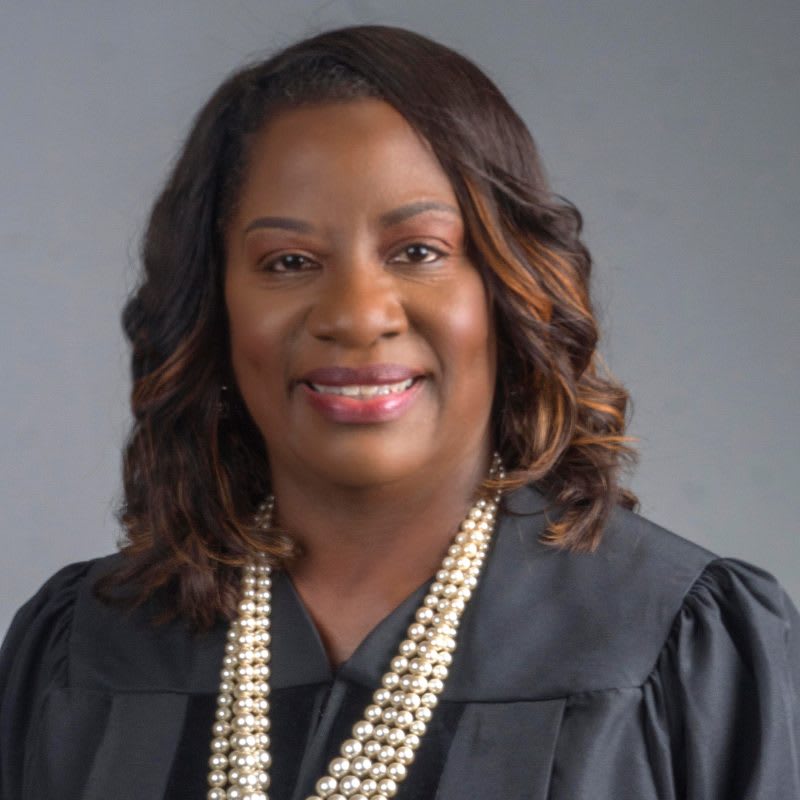 Judge Jackie Powell, a Jamaican native, learned early in life that if you want to attain success; drive, determination and focus are required.  Earning her undergraduate degree was no easy feat as she had to work full time while also attending college full time.  She brings that same drive, determination and focus to the bench.  Judge Powell currently serves as a County Court Judge in the civil division.  Judge Powell earned a Bachelor's Degree in English from Florida Atlantic University and Juris Doctorate degree from Nova Southeastern Law Center. 
Prior to law school, Judge Powell worked as a paralegal with a local law firm.  At that time, she had two minor children but successfully attended law school full time while continuing to work part-time.  Judge Powell has been a member of the Florida Bar for 18 years.   She practiced with the Broward County Public Defender's Office, where she served as a division attorney and later as a supervising attorney.  She represented clients in misdemeanor, domestic violence and felony cases.   After leaving the Public Defender's Office, Judge Powell joined a private civil firm where she served as a supervising litigation attorney representing major financial institutions.  She subsequently started her own firm representing clients in family law matters including divorce, child support, modification and paternity cases as well as criminal defense cases.
Outside of the legal arena, Judge Powell enjoys mentoring young people and has done that for over 20 years through her local church as well as other community organizations.  She was a volunteer Guardian Ad Litem, as well as a volunteer attorney for Broward County Legal Aid.  She currently serves as a board member of Voices for the Children of Broward County, an organization that supports children in foster care.  She is also the Judicial Liaison for the Caribbean Bar Association in Broward County and is a member of the Broward County Bar Association, Jamaican American Bar Association, Broward County Women Lawyers Association, American Inns of Court, and Broward County Hispanic Bar Association.
In 2018, the Boy's and Girl's Club of Broward County recognized her as one of the 100 Outstanding Women of Broward County.  The Broward County Commissioner's Office also recognized her for Women's History Month.  In 2019, she was an honoree of the Lauderhill Chamber of Commerce Women of Distinction. Also, in 2019, she returned to her Alma Mater Camperdown High School (Jamaica) where she was inducted in the school's Hall of "Flame".  In 2020, she was the recipient of the Judicial Honoree award from the Jamaican American Bar Association and received a community leadership award from Genesis FC Football Club.  In 2021, she received the inaugural community award from the Broward Chapter of the Inns of Court.  Most recently, she was recognized as one of South Florida's Most Influential and Powerful Black Professionals of 2021 by Legacy South Florida Magazine.
Judge Powell is married to her husband of 31 years and the couple has two children and one grandchild.
We are proud to recognize Judge Powell as the Member of the Month for August 2021.