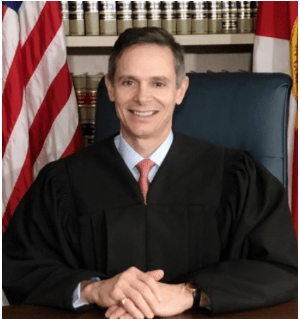 General Magistrate Rudolph "Rudy" (no claim to Notre Dame), Morel was born in Havana Cuba and came to the United States when he was six months old. His mom was imprisoned by the Castro regime, and when she was released, they emigrated to South Florida. His strong Cuban/Latin upbringing created a work ethic he deems sacred. That work ethic has defined him and has allowed him to become the man that he is today.
General Magistrate Morel, who was appointed by Chief Judge Jack Tuter in September of 2019, has as unique a background as any jurist in our Circuit. He is currently assigned as a General Magistrate in the Criminal Division of the Seventeenth Judicial Circuit, tasked with the oversight of Defendants who are currently in Felony Drug Court with the Honorable Tarlika Nunez-Navarro, as well as the Mental Health Court with the Honorable Ari Porth. His position is a serious one, as General Magistrate Morel deals with people's lives, and sometimes life and death situations due to substance abuse, and mental health issues. But much to our surprise, General Magistrate Morel is not just a JD—he is also actually an MD as well. That was his first love. General Magistrate Morel graduated medical school from Georgetown University, and obtained his JD from the University of Miami School of Law. He has worked for Miami Dade County, The Public Trust, and before he became a General Magistrate, he worked for the Broward Public Defender's Office for almost fifteen years. While in the Public Defender's Office, he specialized in defending clients in the Drug Court, as well as fine tuning the therapeutic law in our County. He was also tasked with assisting the Public Defender's office in Capital cases, assisting with the medical and mental issues that those cases sometimes provide. He has also served as a commissioner of substance abuse for the United Way.
General Magistrate Morel is an avid farmer, yes, you read that right! He has a stock of sheep, a flock of chickens, and loves animals. He also grows crops. With such an incredibly diverse background, he credits his small family with properly grounding him and providing him with the strength and work ethic needed to succeed. He is a big believer of doing as much as you can so you can figure out what your passion is. "Do not limit yourself, go out and do it." The Broward County Hispanic Bar Association is proud to celebrate General Magistrate Morel as our Judge of the Month for September 2021.
by Stewart Valencia, Treasurer 2021-2022