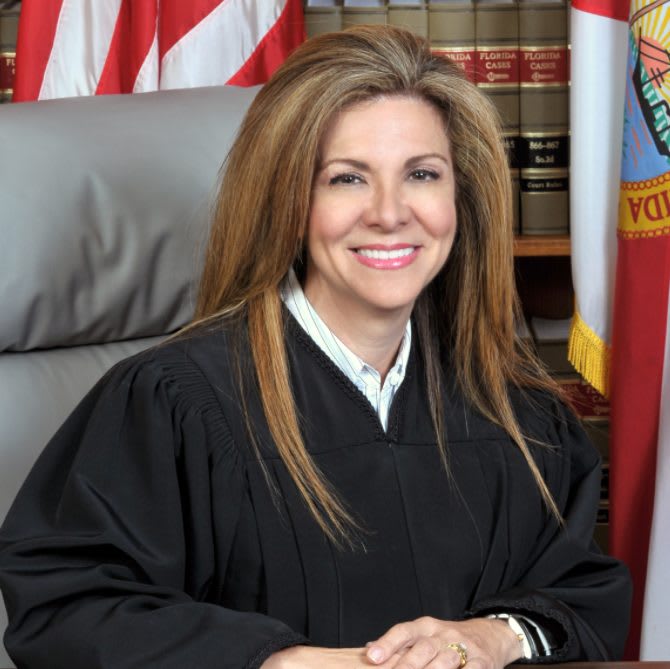 Judge Mily Rodriguez Powell is a judge for the Broward County Circuit Court in the 17th Judicial Circuit of Florida. Former Governor Jeb Bush appointed Judge Rodriguez Powell to the Circuit Court in 2005. During her time on the bench, she has held assignments in the Civil and Probate Divisions.
Born in Cuba, Judge Rodriguez Powell immigrated to the United States on one of the early Freedom Flights in 1966 at just six years old. Although she attended second grade in Cuba, when she arrived to the U.S. she was placed in first grade because she did not speak English.  She soon mastered the language. When they arrived in the U.S., her family moved to Hialeah and one of her uncles operated a catering business.  Judge Rodriguez Powell went on to earn her Bachelor of Science degree from Florida International University.  She then received her law degree from the University of Miami.
In her spare time, Judge Rodriguez Powell enjoys scuba diving, which has caused her to travel all over the Caribbean and Central America including the Bahamas, San Salvador, Andros, and Belize. In Belize, Judge Rodriguez Powell dove into the Great Blue Hole, which is one of the world's most famous diving zones. The Great Blue Hole is the world's largest sinkhole, and it forms a perfect circle in the midst of a coral reef. She has also gone cave diving, which is considered an extreme sport. Additionally, Judge Rodriguez Powell enjoys skiing and recently adopted the hobby of glass cutting.
When she is not looking for her next adventure, Judge Rodriguez Powell enjoys her parents' mariscada (a fish, shrimp and octopus dish that takes two days to cook), which they make for special family gatherings. And we mean large family gatherings, since Judge Rodriguez Powell has literally a dozen aunts and uncles, as well as countless cousins.
The Broward County Hispanic Bar Association is proud to announce Judge Rodriguez Powell as our Judge of the Month for October 2021.